Over the last 30 years, there has been an influx in Ambulatory Surgery Centers (ASCs) for reasons including, but not limited to, physician demand, employee retention, rising case migration and commercial payer discounts. A desire to circumvent wait times, scheduling delays, limited operation room availability, room turnover time and challenges obtaining new equipment due to hospital budgets, has also contributed to this sector's growth. The increasing number of ASCs across the country is directly correlated with the rise in outpatient care and revenue compared to inpatient care and revenue. According to data from the Ambulatory Surgery Center Association and Definitive Healthcare, ten states now have more ASCs than hospitals, many of which house major metros and national influence such as Arizona, California, New Jersey, Florida and Georgia. This trend is not expected to slow down as the aforementioned reasons to convert from hospitals to ASCs is only strengthening due to the disruptions that the overall industry faces this coming year.
As it stands currently, ASCs still are a largely detached industry spread across various owners throughout the nation. According to data from Advancing Surgical Care, 52% of all medicare-certified ASCs are 100% physician owned. 21% are jointly owned with hospitals and 15% are jointly owned with corporations. Only 2% of all ASCs are hospital owned. However, private equity has had its sights set on consolidating the industry for some time. Orthopedic, spine and cardiology have brought private equity to the forefront as more and more procedures move to an outpatient setting. Specifically, cardiology is the fastest growing ASC specialty, according to Avanza's "2022 Key ASC Benchmarks and Industry Figures" report, and it has one of the highest medicare payment increases since 2021, making it a main area of focus for these private equity firms.
As we approach mid-year, there are three key trends we can expect to see throughout the remainder of 2023 and beyond: staff shortages, the rise in technological advances, and consolidation. Staff shortages and rising costs will continue to impact ASCs for the immediate future. While staff shortages have been facing the industry for decades, the Covid-19 pandemic greatly exacerbated this issue. With fewer staff on hand, burnout has become increasingly common and hospitals and health systems are challenged with recruiting the same talent. In addition to staff shortages, issues across the supply chain, coupled with a rise in construction costs, have made the use of technology and operating efficiently incredibly vital. The rise in technological advances, such as the use of robotics and Artificial Intelligence (AI), will continue to be a driver in lowering the rising costs previously mentioned by improving efficiencies, safety and patient outcomes. Utilizing robotics and AI creates more streamlined communications, provides faster assessment and recovery times, optimizes the use of resources and allows for an increase in the volume of surgeries in an outpatient setting. Lastly, the largely fragmented industry has continued to experience pre-pandemic consolidation as larger management companies take ownership of ASCs. While the majority of ASC facilities remain independent, there is plenty of room for future consolidation at the individual-facility level.
Although ASCs continue to be on the rise, they are not immune to the disruptions the industry faces as a whole from factors such as inflation, labor shortages and supply chain. Because ASCs are heavily invested in small quantities of very high cost items such as special medical devises, an interruption in the supply chain poses the greatest threat to ASCs.
The good news is that ASCs operate on higher margin categories than most standard hospitals, allowing for more breathing room in dealing with inflation in 2023. Additionally, ASCs align their values with their surgeons and tend to have stronger employee retention than hospitals and other acute care facilities.
The data suggests that ASC's will remain a growing segment of the Healthcare real estate investor community. In the top 25 MSA's Between Q1 2021 and Q1 2023, we have seen steady increases in SS YOY Rent growth, Average Rental Rates as well as occupancy rates. Prior to Q4 2022 Transaction volume in both $'s and SF have also steadily increased. (See graph below) With the continued focus on health systems and physician groups to deliver quality outpatient care from a cost effective, efficient approach, we believe these trends will be seen beyond the top MSA's even to most secondary and some tertiary markets.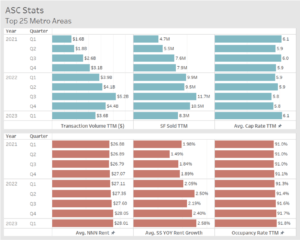 «
Previous
Next
»